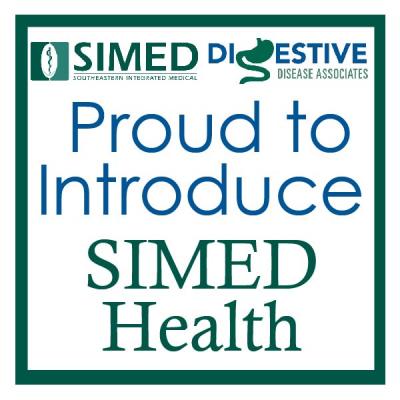 SIMED AND DIGESTIVE DISEASE ASSOCIATES FORM NEW HEALTHCARE SYSTEM
SIMEDHealth providing healthcare throughout North Central Florida
GAINESVILLE, FL - Southeastern Integrated Medical, PL (SIMED) and Digestive Disease Associates of North Florida, Inc. (DDA) announced today they are combining practices to form a new healthcare system called SIMEDHealth, LLC.
Formed in 1987 and headquartered in Gainesville SIMED has been leading the North Central Florida healthcare region through the transformation towards measurable higher quality and accountable care. An independent multi-specialty healthcare system also has locations in Ocala, Chiefland, Lady Lake, McIntosh and Lake City.
DDA is the only independent, full-service Gastroenterology medical practice in Gainesville with clinics in the Medical Arts building on the HCA/North Florida Regional Medical Center Campus. DDA was founded in 1979.
Daniel M. Duncanson, M.D. was named as the Chief Executive Officer of SIMEDHealth. "The creation of SIMEDHealth will provide a stronger foundation by which our combined efforts will allow us to do more for our patients, employees and communities. By combining our efforts and resources we will be able to go farther than either of us could individually towards enhancing the health in our region, and doing so as stewards of the rising healthcare costs.
"We're excited about the opportunity to partner with SIMED and be able to provide more resources for our staff and physicians. It is important for physician practices to work together to continually develop themselves so they can provide patients and the community with needed services." said Scott Johnson, Practice Administrator of DDA.
"For decades medical practices have proudly stood as small and often single specialty groups. By partnering together SIMEDHealth will be able to bring sophisticated healthcare administration, data analysis, and efficiencies usually only available in larger cities. Bringing these efforts to our region while keeping that 'small town touch' we're used to is one of the exciting aspects of this historic leap by the physicians and leadership of both groups." said Daniel M. Duncanson, MD, Chief Executive Officer of SIMED.
SIMEDHealth will officially begin April 1, 2018. For patients this transition will be seamless as they will continue to see their same physicians in the same locations. Their healthcare records and appointments will automatically be integrated into the new SIMEDHealth healthcare system. For more information, patients can visit the SIMEDHealth website at www.simedhealth.com.
***
SIMEDHealth is a healthcare system with over 85 physicians, and over 100 total healthcare providers dedicated to caring for the patients of North Central Florida. The integrated, multispecialty approach allows Physicians to better utilize resources in order to provide quality care to our patients. For more information on SIMEDHealth, visit www.simedhealth.com.