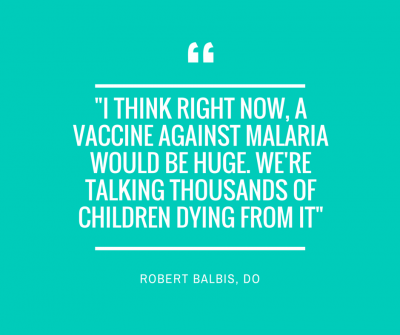 This week is World Immunization Week. Even though certain vaccinations have been developed, they have yet to become readily available in some countries. The World Health Organization has dedicated this year to "closing the immunization gap."
SIMED Primary Care physician, Dr. Robert Balbis, uses his global perspective to provide input on this topic. Dr. Balbis has traveled during his military career and mission trips to Panama, Iraq, Saudi Arabia, Kuwait, Ethiopia, Guatemala and Nicaragua.
The Most Impactful Vaccine
"Most of my peers have not seen a pretty horrific disease called Polio," Dr. Balbis said. "I've been able to see Polio in Ethiopia and Central and South America. It is debilitating. It doesn't have to kill; it can leave you non-ambulatory with an extremity that's withered."
Dr. Balbis's opinion is that the Polio vaccination has been the most impactful immunization for humanity.
"I've seen the impact one child with Polio has on a whole village," Dr. Balbis said. "It's not just one individual who's affected by Polio – it's the whole family that has to provide for this child to live, because there isn't a social system prepared to help people with these disabilities."
In 1988 more than 125 countries were endemic with polio. Now the World Health Organization has determined that only 2 countries (Afghanistan and Pakistan) remain polio-endemic. "On a global scale, Polio has been mostly eradicated, but it's still in existence in some areas, and to see that makes you realize how much of an impact it has made in this world to be able to immunize people from Polio," said Dr. Balbis.
The Vaccine With Potential
A more well known vaccine in Western societies is the Gardasil vaccine which immunizes against Human Papilloma Virus (HPV). HPV is the "most common viral infection of the reproductive tract," stated Dr. Balbis.
"There's currently a lot of ongoing research on the HPV virus and the Gardasil vaccine," said Dr. Balbis. "That has a very big impact, on a global scale. HPV is more than genital warts. Almost all cervical cancers are associated with HPV. Also people with HIV have diminished ability to fight HPV infections."
"Another aspect of HPV that many people don't realize" said Dr. Balbis; "is that if more people were HPV vaccinated, the prevalence of throat and neck cancers would likely decrease, since a lot of throat cancer is HPV mediated."
The Vaccine We Need
"I think right now, a vaccine against malaria would be huge. We're talking thousands of children dying from it," says Dr. Balbis. "The top killers in the world are TB, malaria, and diarrhea."
The Vaccine You Need
When it comes to what vaccinations you should consider getting, Dr. Balbis wants patients to talk to their healthcare provider about their individual lifestyle.
"As a physician, I take into account each person's individual needs," Dr. Balbis says. "For example if your sister has a baby, she would want you to be vaccinated towards diseases that would be devastating for the child, like diphtheria and pertussis (whooping cough).
Most immunizations work by exposing your body to a little bit of the disease process – not the entire disease process, so that your body's immune system develops antibodies against that portion. The next time your body is exposed to the disease, it's more capable of fighting it. The portion exposed to your body during the immunization is not enough to cause the disease.
SIMED offers a variety of vaccinations to patients in North Central Florida. Here is a list of the most common vaccinations offered:
Influenza

(Flu)

Hepatitis A
Hepatitis B
Pneumovax - 23

(Pneumococcal disease)

Prevnar - 13

(Pneumococcal bacteria) 

Gardasil

(HPV)

Varicella

(Chicken Pox)

Zostavax

(Shingles)

Tetanus, Diphtheria, Pertussis

(Tdap)

Menomune/ Meningitis
Typhoid
Schedule an appointment with a SIMED Primary Care physician to review what immunizations are appropriate for you. Click here to request an appointment online.