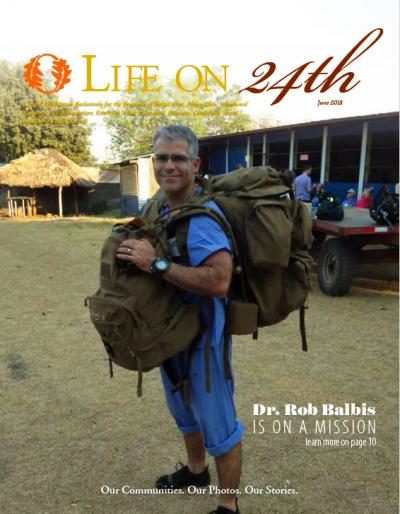 Dr. Robert Balbis of SIMEDHealth's Gainesville primary care has been featured in Life on 24th, a local north central Florida magazine. The following article discusses his years of missions work with the Christian Medical and Dental Association.
Keep reading for the full story: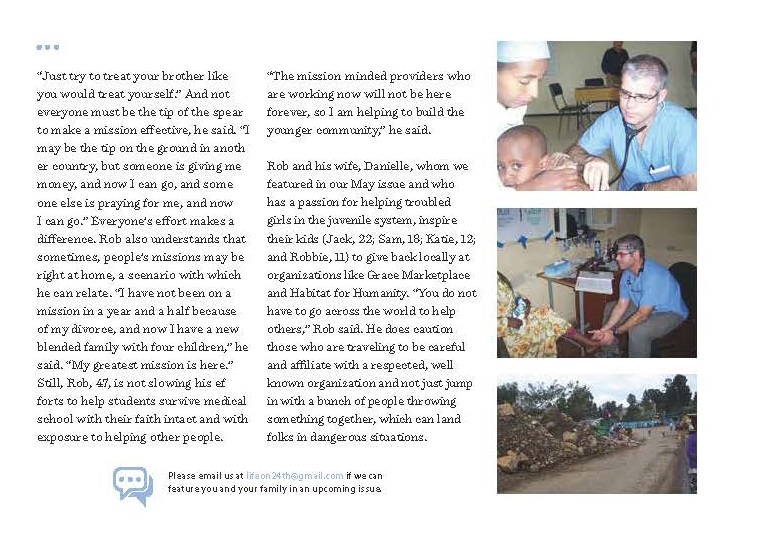 Cambridge Forest resident Rob Balbis has committed his life to helping the less fortunate, but he does not simply dole out cash or free meals to those who are hungry and struggling in life or hand out blankets and walk away. Rob, a board-certified physician for SIMEDHealth, hospitalist for Shands Rehab and current president of the local chapter of the Christian Medical and Dental Associations (CMDA), finds champions in the areas he serves who will further the mission. Rob mentors University of Florida (UF) medical students and members to do the same through CDMA, an organization that glorifies God by motivating, educating and equipping Christian healthcare professionals and students. Roughly every other year, Rob accompanies students on missions and witnesses the wonder of their experiences. This Spring Break, 40 UF students traveled to Nicaragua with Drs. Larry Yeung and Anamaria Yeung, both physicians at UFHealth.
Rob, who met Jesus when he was 17 and committed his life to serving Him, took his first mission trip in 1996 after spending eight years as an infantry medic in the 82nd Airborne Division of the United States Army. He realized that if he can help people in the most inhospitable places and rudimentary clinics in the Middle East, he could continue reaching others outside of the military. "The fact that God can use someone like me to do His work is so humbling to me," he said. "I am not a perfect person or doctor; I am just as broken as the people I am helping." Rob grew up in Palm Beach Gardens and after his Army service earned his bachelor's degree in English at UF, went to medical school at Michigan State University and did his family practice residency at the University of Miami Jackson Memorial Hospital. He said that God is just using him to do phenomenal work.
During one mission trip in Guatemala, Rob visited a village high in the mountains and met a man who had a child with Down syndrome. Often, kids with special needs do not receive an education in rural villages, so Rob and his group helped build a school for handicapped students. The man he met — the champion in the area — became the school's principal, his wife became a teacher and his son, the first student. "We guided local people, bought local materials and empowered this man to own the school," Rob said. "We shared the gospel and gave him hope, a passion, a station in life, which is more important than giving out a $5 bill or a meal." The school, in 2018, is still flourishing.
Rob has also done mission work in Ethiopia, treating women and children with HIV and providing them with sewing machines and the skills to make linen pillowcases and dolls, which they sell at market. These women, whose husbands died from AIDS, sometimes have no other means than prostitution to support themselves and their children. "Now, the government supplies them with Direct Observed Therapy (DOT) for their HIV and tuberculosis medications," Rob said. "We also provide them with a means to support themselves. These women work themselves to the bone. They are so proud, they have a purpose, and they are off the streets. We do not just give these women a fish; we teach them to fish."
The CMDA subscribes to a model of helping that does not promote a "welfare nation" culture in which people receive handouts with no hope for improving their situations. "We can destroy a whole country by being Santa Claus and dropping out of the sky, showing people what they are missing and then leaving," Rob explained.
Rob recommends the book When Helping Hurts: How to Alleviate Poverty Without Hurting the Poor . . . and Yourself by Steve Corbett and Brian Fikkert, who write about how some alleviation efforts fail to consider the complexities of poverty and have unintentionally done more harm than good. "The worst thing you can be is poor and not even have a dream," Rob said. The students Rob mentors are learning this concept. "Students go on mission trips sometimes just to do something for Spring Break or build their resumes," Rob said. "But when they go, they get whacked right between the eyeballs with Jesus. "Being a part of these students' experiences is powerful." Rob encourages others to recognize their gifts and donate them to God's kingdom. "If you're not religious, that is fine," Rob said.
"Just try to treat your brother like you would treat yourself." And not everyone must be the tip of the spear to make a mission effective, he said. "I may be the tip on the ground in another country, but someone is giving me money, and now I can go, and someone else is praying for me, and now I can go." Everyone's effort makes a difference. Rob also understands that sometimes, people's missions may be right at home, a scenario with which he can relate. "I have not been on a mission in a year and a half because of my divorce, and now I have a new blended family with four children," he said. "My greatest mission is here." Still, Rob, 47, is not slowing his efforts to help students survive medical school with their faith intact and with exposure to helping other people. "The mission-minded providers who are working now will not be here forever, so I am helping to build the younger community," he said.
Rob and his wife, Danielle, whom we featured in our May issue and who has a passion for helping troubled girls in the juvenile system, inspire their kids (Jack, 22; Sam, 18; Katie, 12; and Robbie, 11) to give back locally at organizations like Grace Marketplace and Habitat for Humanity.
"You do not have to go across the world to help others," Rob said. He does caution those who are traveling to be careful and affiliate with a respected, wellknown organization and not just jump in with a bunch of people throwing something together, which can land folks in dangerous situations.
Click here to learn more about Dr. Robert Balbis of SIMEDHealth's Gainesville primary care. To set up an appointment with Dr. Balbis, you can request an appointment here.