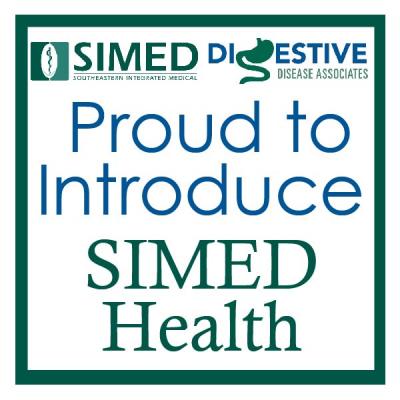 Southeastern Integrated Medical has exciting news for you about our future.
SIMED and Digestive Disease Associates of North Florida Inc. ("DDA") will combine practices to create a new multi-specialty health system. The new health system, SIMED Health, LLC, will bring our efforts together and strengthen our ability to provide patients with quality, cost-effective healthcare.
Benefits to Patients of the New Healthcare System
1.Same Great Experience You Expect
The immediate impact will be minimal for our patients. You should expect the same great experiences you have become comfortable with at SIMED and DDA to continue under SIMED Health. The staff, physicians, and locations will all stay the same.
2. Electronic Records & Connectivity
Your medical records will remain in the same secure location. However, over time, electronic connectivity between the different locations will develop and enhance the efficiency with which your healthcare provider obtains your information.
3. Improvement in Healthcare Experience
By combining resources, SIMED Health will have unparalleled data analysis capabilities. Using data, SIMED Health physicians will have access to resources only available to larger practices. They will be able to examine how to deliver efficient, effective healthcare to you focusing on your experiences and improved outcomes.
Benefits to the Communities of the New Healthcare System
1. Higher Quality of Care
Based on peer review statistics from the region, SIMED physicians score in the highest percentiles on quality metrics. This means SIMED patients are more likely to receive care that achieves their desired results. The same statistics also show that the SIMED patient's total cost of care is lower than average. We all benefit from bringing the knowledge SIMED has acquired over years of achieving these results to other physicians in our communities.
2. Greater Healthcare Options within the Community
While there are times large healthcare systems are necessary, in most situations, the same quality healthcare can be provided at independent healthcare facilities and practices.  Independent healthcare is important to ensure we all have lower cost, higher quality treatment options available to us, and SIMED provides a proven foundation and opportunity for independent healthcare groups to remain strong and viable.
3. Lower the Cost of Health Care
When healthcare is attached to a hospital system, the cost increases dramatically. It is everyone's responsibility to try to lower the total cost of healthcare, and we take that responsibility seriously. We understand that for many patients, the out-of-pocket healthcare expenses are skyrocketing.
SIMED Health will continue to serve our communities and offer more opportunities for improved affordability of healthcare.  Our communities will continue to benefit as we develop and expand opportunities for physicians to be part of a reliable, sustainable, independent network of medical groups.
Benefits to SIMED Health Employees
1. Sustained Relevance
The topics mentioned above provide a secure foundation upon which our healthcare system will remain a viable, relevant system for the indefinite future.
2. Greater Opportunities
By increasing our employee numbers, we anticipate enhanced benefit packages and the ability to further amplify our staff and manager development programs.
We are so excited to involve everyone in this new venture. Please continue to check back for updates.
More details will follow as we move closer to SIMED Health beginning operations April 1, 2018.