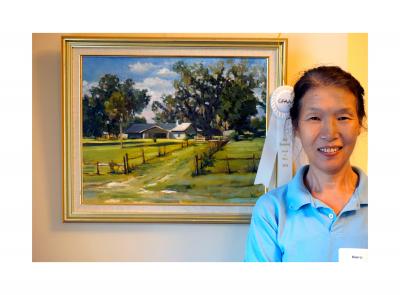 Each month, SIMED recognizes one of the Gainesville Fine Art Association artists featured in the SIMED central hub (4343 W Newberry Road) as the Artist of the Month.
Artist of the Month (January 2018): Xiao Li
             My name is Xiao Li. I have a background in molecular biology, but my love for art can be traced back to my teenage years in China when my middle school classmates and I were all sent to the countryside (the coldest part of China) to be "re-educated by the peasants".  Life there was hard, but what a beautiful place. It was like an oil painting coming out of the canvas of the Russian Masters. It was there that I started to learn to paint.  After long hours working on the fields, my closest friends and I would huddle over the smoking oil lamp and learn the basics of painting from a torn book. I still have some of my paintings from then.
            Those were hard times. Those were happy times.  Eight years from when I arrived in the countryside, the authorities realized they had made a mistake and brought millions of us back to the city. After leaving the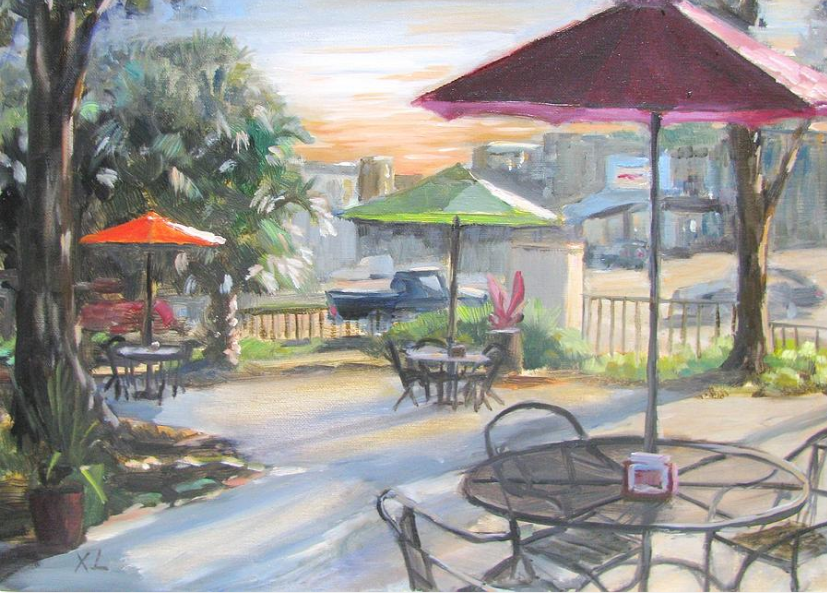 countryside, I kept myself busy studying in college, coming to America, and becoming a Molecular Biologist. I had not picked up a paint brush for over 30 years until recently when I retired.
            Like it's been said, when a door is closed on you, look around and you may find an open window. I found my window.  I still remember how excited I was when I opened my first box of art supplies and held those paint brushes, canvases, and paint tubes in my hands.
            Painting has become like meditation to me.  When I paint, the world disappears. Only me, my subject, and my painting exist. The peacefulness is like a scent from burning incense, floating around me. I am happiest when I paint. I am also very happy to have found the Gainesville Fine Art Association (GFAA).  Now I am not alone anymore.  I am around my fellow artists. I can show my paintings and get feedback. But I still have so much to learn, and I am happy to work on my canvases. 
            You can view my paintings on my website: http://fineartamerica.com/profiles/xiao-li.html.  You can also contact me by email: xiao.0011@hotmail.com or call me at 352-562-1976. I will be happy to hear from you.  Your comments and suggestions are always very welcome.
To view Xiao Li's art and the art of others in the GFAA, visit SIMED's Gainesville location today where you can see Li's art featured prominently in the front atrium during the month of January 2018.