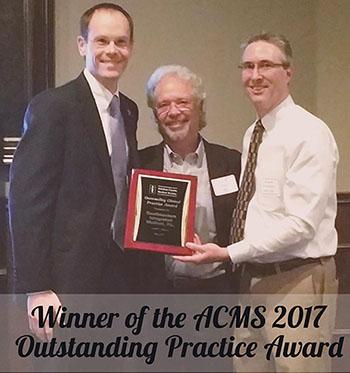 On May 9th, SIMED received the 2017 Outstanding Clinical Practice Award from the Alachua County Medical Society (ACMS). The award was given for the first time to recognize a medical practice or service line for providing exemplary patient care. 
"This award recognizes the efforts of every SIMED employee over the last several years" Dr. Daniel Duncanson, the CEO of SIMED, said, "SIMED embraces the opportunity for change, and endeavors to continuously develop ourselves to meet the needs of our patients, communities, and physician populations we serve.  This took effort from everyone at SIMED to break down old ways of doing things, and replace them with a true patient centered approach."  
SIMED was recognized as the first and only Medicare Shared Savings Program (accountable care organization) in the region from Alachua County north to the state line that has driven down total healthcare costs for its patient population while maintaining excellent quality of care.  SIMED had numerous quality of care measures ranking in the 90th percentile for the country.
In his letter of support for the nomination, Duncanson explained that in 2010 SIMED decided to turn its focus towards the Institute of Medicine's population health "'triple aim' to provide care to patients and their caregivers that measurably improves their health, in a satisfying manner, and with efficiencies toward costs."
SIMED is working with other insurance providers to develop similar accountable care relationships and recently began reaching out to other health care groups in the region in an effort share information to help the groups learn more about their impact on local health care costs and quality.
"Because this issue extends beyond SIMED's walls," Duncanson said, "it is a much bigger challenge but one SIMED intends to take head on for the betterment of our communities and society as a whole."
The ACMS president Dr. David E. Winchester said he felt there was a need to recognize organizations like SIMED and that ACMS had the ability to make it happen.
To learn more about the Medicare Shared Savings Program. click here.