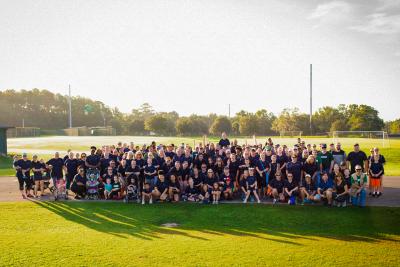 On Saturday, September 22, roughly 300 SIMEDHealth employees, family members and many community organizations helped to raise over $225,000 for the American Heart Association.
"My favorite part was meeting new people and seeing such large community support," said Angie Kuhn, SIMEDHealth's chief operating officer.
The annual Alachua County Heart Walk saw its largest crowd this year. An estimated 3,000 people arrived at Santa Fe College in Gainesville, FL, to raise funds and help prevent heart disease and stroke.
 "We are proud to support and promote this initiative to get people active and to spread the word about heart health. The health of our community is our top priority," said Kuhn
SIMEDHealth's goal by participating in the Heart Walk is not only to raise funds for the American Heart Association, but to allow employees, families and the entire community to participate in their health and commit to leading healthy lifestyles. The Heart Walk also allows our four-legged friends the chance to break a sweat.
"The walk was a lot of fun for my two-year-old Shih Tzu, Gracie and me. She became the unofficial mascot for SIMEDHealth and had her very own name tag! She greeted every single solitary person that she could. Her and me finished the walk together and then went home and took a nap," said Julie Stout, owner of Gracie and SIMEDHealth HR generalist.
This annual event also allows a unique opportunity for SIMEDHealth team members to build relationships, in turn creating a more harmonious workplace and a positive environment for the patients we serve.
"On Saturday morning I set a new personal record. This time not in the time, endurance, courage or the strength category, but rather in the fun category; this was an absolutely fun event giving me the opportunities to not only mingle with my SIMEDHealth colleagues and friends but also with people in the community. Everyone worked up a good healthy sweat for a good cause," said Lambert Vaes, SIMEDHealth Chief financial officer and fitness enthusiast.
Click here to learn more our career opportunities and check out some of the pictures from the event below!