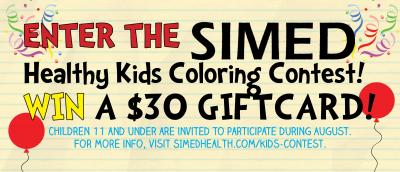 It's time to head back to school, and SIMED is thrilled to announce our 2017 Kids Coloring Contest for children 11 years old and under to promote healthy living. The theme is "I feel healthy when." Children: draw or paint pictures of exercising, eating healthy, going to the doctor or whatever makes you feel healthy!
Your photo could be featured on SIMED's website and social media, and two lucky children will win a $30 Target gift card.

It's easy to enter! Follow these three steps:
1. Pick up a drawing form at one of SIMED's locations or download and print it out here: SIMED Healthy Kids Contest Form
2. Fill out the required information.
3. Have your child draw what makes them feel healthy, whether it's exercising, eating healthy snacks, going to the doctor or more!
Parents, when your child is finished with their drawing, submit it easily with one of four options:
1. Drop it off at a SIMED office
2. Mail it in to Digital Marketing, 4343 Newberry Road, Suite 18, Gainesville, Florida, 32607
3. Email it to contest@simedhealth.com
4. Send it to us as a message on social media!
The deadline to enter is August 31st. Good luck!
Information for the adults:
Each Sunday, drawings submitted earlier in the week will be featured on our
Facebook
so make sure to
follow us
and share your child's drawing to show support.
Children 11 years old and younger are eligible to enter.
There are two age groups:
Age group 1: Children 6 and under
Age group 2: Children 7 to 11
One child in each age group will be selected to take home the prize, a $30 Target gift card.
The deadline to enter the contest is August 31st, and the winners will be announced September 3rd.
The child must draw on the paper provided. Age will be taken into account when evaluating the drawings for skill and difficulty level. A team of unbiased staff will be selected to decide upon the winner.
Children can only submit one entry; however, there can be multiple submissions per family.
You do not have to be a SIMED patient to submit your child's drawing for the contest; however, participants will need to pick up the prize at a SIMED location. Staff members are welcome to enter as well.
All information must be filled out to be eligible for the prize. The prize cannot be exchanged for its monetary value.
SIMED reserves the right to use all submitted drawings in promoting the practice. If cheating is suspected SIMED has the right to ask for proof of skill and ability.