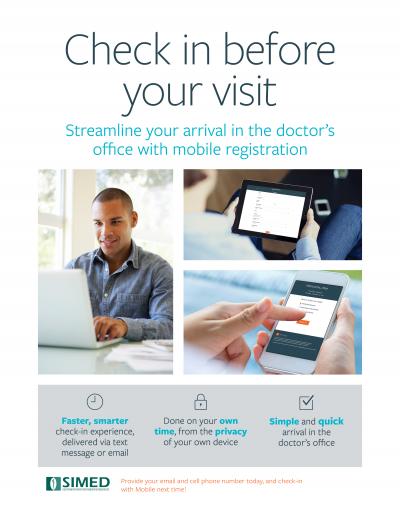 SIMED will initiate a new faster, more secure check-in system in select clinics.
The new electronic check-in system will replace traditional check-in at SIMED Neurology and SIMED Neurosurgery in Gainesville on February 6th. On February 7th, SIMED Primary Care Suite 15 and Chiefland Primary Care will begin using the system.
Patients of these clinics will experience a faster, more private check-in experience. If the trial proves successful, the new check-in system will be integrated throughout all SIMED locations.
Quick, Secure Check-In
With the new check-in system, you will be able to fill out your information by text message or email. When your appointment approaches, you will get a notification to fill out your information in advance saving you time in office.
Once you arrive, you will be able to complete your registration on one of the available electronic pads. After you check in, your health information will be sent to the doctor you're seeing.
The new electronic check-in system meets the strict security requirements of the healthcare industry to ensure patients are protected. All the information you enter is private, secure, and never stored in a physical location.
Improved Patient Care
With an automated check-in system, our clinic staff will now have more time to deliver personalized care to each patient. Physicians will be able to quickly pull up and add to patient files and will be able to spend more time delivering care to patients.
SIMED clinics will also be able to send you reminders when you need to schedule another appointment to ensure you stay on top of your health.
Safe, Efficient Payment
We will be able to verify your insurance coverage prior to your exam, and you will be able to pay all copays and balances in a secure environment with the new system.
The system is PCI-compliant, registered as an approved solution with Visa and MasterCard, and uses top encryption and security technology to protect your financial information.
Your credit card information will never be saved in the system, and staff members will also only be able to see the last four digits of your credit card number to ensure the data is unusable in the event of a breach.
At SIMED, we are always looking for ways to improve patient care, and we are excited to begin to offer this new more efficient, secure system.
To request an appointment with
SIMED Neurology, call 352-374-2222
SIMED Neurosurgery, call 352-332-7246
SIMED Primary Care, call 352-224-2225
Or you can request an appointment online.