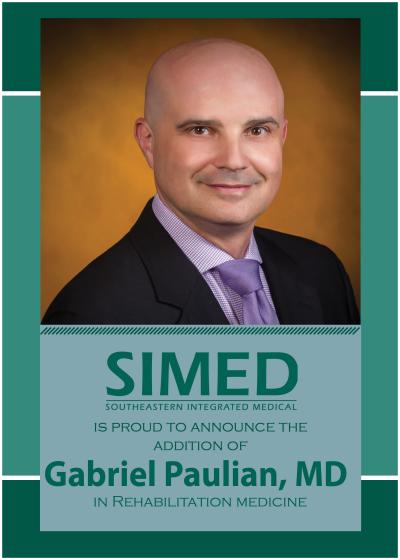 SIMED is proud to announce the addition of Gabriel Paulian, MD to SIMED Rehabilitation Medicine. Dr. Paulian is an Internal Medicine physician who completed a Fellowship in Palliative Medicine and is Board Certified in Addiction Medicine. Dr. Paulian provides medical pain management to a variety of patients, including those who have musculoskeletal pain, cancer pain, and headaches. He also provides assistance in helping patients reduce or eliminate addicting medications and can provide trigger point injections, large join injections and "battle field" acupuncture.
Dr. Paulian also serves as a Lieutenant Colonel and Flight Surgeon in the Florida Air National Guard 125th Fighter Wing.
Dr. Paulian is available to see patients from throughout the North Central Florida area in our Gainesville office location. For more information, or to schedule your appointment, please call (352) 373-4321 or request an appointment online.