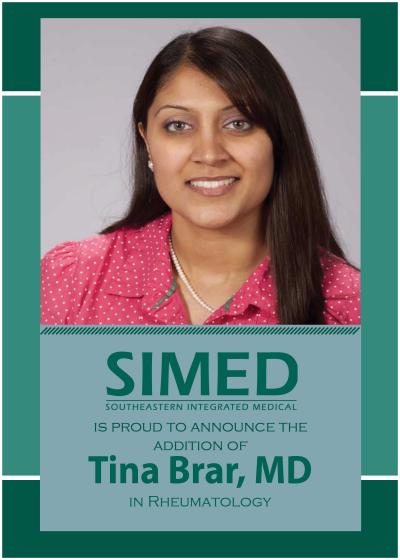 SIMED would like to take this opportunity to welcome Tina Brar, MD to the SIMED Arthritis Center.  Dr. Brar is a graduate of the Xavier University School of Medicine and completed her Residency in Internal Medicine and Fellowship in Rheumatology at Brown University. 
Dr. Brar is Board Certified in Internal Medicine and available to treat patients with a variety of rheumatological conditions including rheumatoid arthritis, osteoarthritis, lupus, gout, ankylosing spondylitis, Lyme's disease, tendinitis, cervical disease, scleroderma, and vasculitis.
Dr. Brar will be available for patients in our Gainesville and Chiefland offices. To schedule your appointment with Dr. Brar, please call (352) 378-5173 or schedule your appointment online.