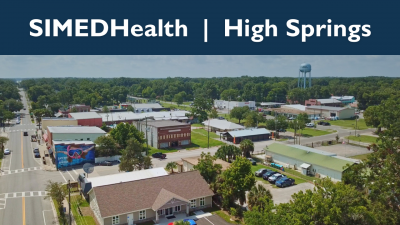 SIMEDHealth - High Springs
Welcome to SIMEDHealth - High Springs, a small historic north Florida community nestled in the heart of nature. SIMEDHealth offers primary care, physical therapy, and lab services, to meet the diverse healthcare needs of High Springs' and the region's residents. Whether you're seeking preventive care, managing chronic conditions, or simply need a check-up, our primary care team is here to help. When it comes to rehabilitation and recovery, our physical therapy services provide personalized treatment plans tailored to your specific needs. Our physical therapy team is committed to restoring your mobility, improving your quality of life, and helping you reach your full potential.  
We take great pride in being your trusted healthcare provider, and look forward to serving you and your family. 
For more information about our High Springs Clinic,
click here.
To make an appointment at our High Springs Clinic, 
click here.
If you're unable to view the video, watch on YouTube. https://youtu.be/gdI0K1AdHxU