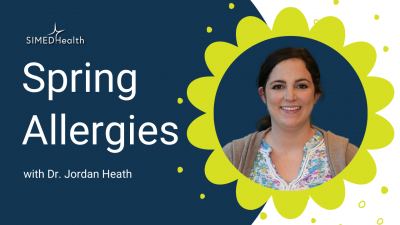 Learn how to survive spring allergies!
Seasonal Allergies, also known as hay fever and allergic rhinitis, can be particularly challenging this time of year. In this video, Allergist Dr. Jordan Heath, discusses the symptoms, triggers, and treatment options for spring allergies. If you're struggling with allergies, SIMEDHealth is here for you. Our team of experienced allergists can help you identify your specific allergy triggers and create a personalized treatment plan to help you manage your symptoms. Don't suffer through another spring season with allergies, visit SIMEDHealth Asthma & Allergy today!
To learn more about Dr. Jordan Heath, click here.
To make an appointment with Dr. Jordan Heath, click here.
If you're unable to view this video, click here.