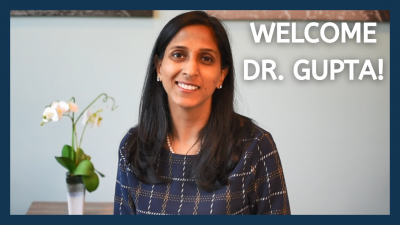 SIMEDHealth Primary Care is happy to welcome Dr. Gupta to the team! To learn more about her, watch the video below, then scroll down to read her tips on healthy aging.
Healthy Aging Month Tips
Healthy aging is about creating the environments and opportunities that enable people to be and do what they value throughout their lives. Every September, Healthy Aging Month is observed and focuses on various aspects of growing older. Healthy aging revolves explicitly around a holistic approach to aging for people 50 years of age and older. This incorporates individuals' physical, mental, and social well-being and allows them to reflect on the past with motivation to improve their health in the future. With the toll of the COVID-19 pandemic on everyone's work, family, and social life, there is even more of an urgent need for us to reflect on the various aspects of our health.
It is never too late to start working towards a healthier goal. So, let's reinvent ourselves and take control during the National Healthy Aging Month by creating an environment that enables us to do what we value in our lives. A few things I believe will allow you to get moving in the right direction:
Age: It's a state of mind. Think about when you felt the healthiest and try to think and act that way. The bottom line is – POSITIVE THINKING works. So be optimistic in life and turn your focus to positive things. Imagine the glass to be half full rather than half empty.
Stay active and exercise: These are an integral part of healthy aging. Studies suggest exercising allows people to live longer, healthier and better. It reduces your risk of developing various diseases like diabetes, high blood pressure, and disability with aging. In addition, exercise improves muscle strength and balance, thereby reducing the risk of osteoporosis and falls. One easy way to make exercise part of your routine is to stay active in your daily life by taking the stairs, walking your pet, gardening, etc. Or, develop an exercise schedule with a good mix of endurance exercises that will allow you to achieve the above goals. Yoga and meditation may also be a great way to begin your journey to stay active and healthy.
Consult your physician if you are unsure which activities are okay with your medical condition.
Smart food choices: This plays an integral part in how people age. There is a lot of evidence connecting unhealthy food choices and micronutrient deficiencies to various medical problems. Making smart food choices collectively as a family makes it easier and more fun. A few things which need to be avoided are processed foods, high-calorie snacks, refined grains, red and processed meat, fast food, soda, and solid fats. Instead, substitute them for high-fiber cereal, low-fat dairy, non-white bread, whole grains, beans, vegetables, fruits, and snacks with no added sugars. Keep track of what you eat and hold yourself accountable.
Additional attention must be paid to adequate intake of micronutrients and vitamins as their deficiency can be associated with various medical problems like muscle atrophy, poor physical activity, weak bones, and back pain.
Mental health: It's not uncommon for people to have mental health issues like depression with aging. It is essential to recognize the warning signs. These issues can complicate management and worsen health in people with chronic health conditions like diabetes, heart disease, and chronic pain. Some of the warning signs of depression may include changes in mood, energy level, or appetite. Other warning signs include difficulty sleeping or sleeping too much, fatigue, poor concentration, tearfulness, sadness, hopelessness, anger, feeling stressed, and suicidal thoughts.
It is essential to realize that mental disorders can be treated and don't hesitate to ask for help. If you are unsure about your symptoms, talk to your health care provider, someone you can confide in, or call the Alachua County Crisis Center (352-264-6789). If you feel you are in a crisis, you can also call 911 or the National Suicide Prevention Line at 1-800-273-TALK (8255).
Connect with family and friends: It's been hard for people to connect during the pandemic due to social distancing and other restrictions. Thanks to various ways to electronically be in touch like Zoom, Skype, WhatsApp, Facebook, etc. – we can stay connected with our friends and loved ones. Start today by contacting a friend, family member or make a special interest group to connect with people.
Hobbies: Think about what you like to do and explore new activities which are fun and relaxing. Studies have demonstrated that people involved in hobbies and social and leisure activities may lower their risk of developing specific health problems. This may be reading, gardening, spending time with family, participating in social activities, and being part of a social group. Others may feel more productive by engaging in activities like volunteering in the community or working towards a social cause. Find what motivates you, and don't be afraid to pursue it.
In summary, healthy aging is a process that incorporates various aspects of mental, social, and physical well-being, and it's never too late to start working on this process. As your physicians and Primary Care clinicians at SIMEDHealth, we take pride in helping guide our patients through this process. We will be happy to discuss any of these with you to help kickstart your healthy aging journey.
Click here to schedule an appointment with Dr.Gupta.