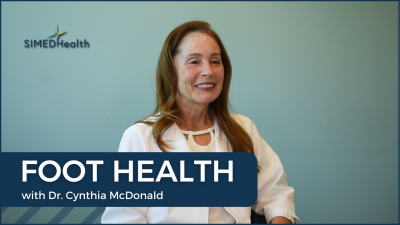 Take a step towards healthier feet! SIMEDHealth Podiatrist, Cynthia McDonald, discusses common foot problems, causes of foot pain, and effective ways to relieve discomfort.
SIMEDHealth Podiatrist Dr. Cynthia McDonald, has years of experience in treating common foot problems and helping patients alleviate foot pain. Dr. McDonald covers a range of topics related to foot health, including the causes of foot pain, how to prevent and treat common foot conditions, and tips for maintaining healthy feet. Common foot conditions include ingrown nails, fungus nails, plantar warts, bunions, heel pain, claw and hammer toe, and more. Regardless of age or athletic ability, don't let foot pain hold you back from daily activities. Dr. McDonald sees patients in Gainesville and Chiefland. Schedule an appointment with a SIMEDHealth Foot and Ankle specialist today!
If you're unable to view the video, watch on YouTube.