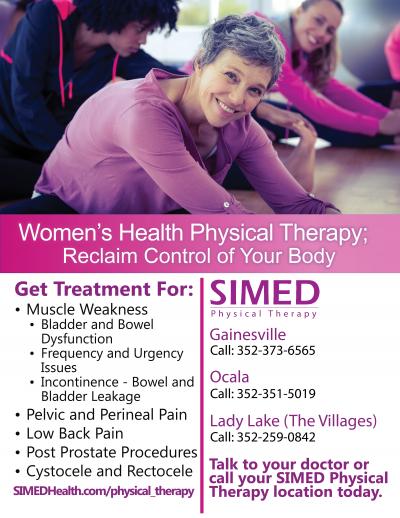 Did you know SIMED offers Women's Health Physical Therapy? Reclaim control of your body.
SIMED offers women's health physical therapy at our Gainesville, Ocala, and Lady Lake locations. 
You can get treatment for: 
- Muscle Weakness
  - Bladder and Bowel Dysfunction
  - Frequency and Urgency Issues
  - Incontinence - Bowel and Bladder Leakage
- Pelvic and Perineal Pain
- Low Back Pain
- Post Prostate Procedures
- Cystocele and Rectocele
Gainesville: 352-373-6565
Ocala: 352-351-5019
Lady Lake: 352-259-0842

Meet the SIMED Women's Health Physical Therapist:
Filamae Garnica will be working with patients for the Women's Health Physical Therapy.
She is knowledgable and trained to treat conditions specific to women.
She can recognize and help patients with a variety of problems and help them restore control over their bodies.
Don't wait to change your life! Talk to your doctor or call your SIMED Physical Therapy location today.
Learn about our other physical therapies.