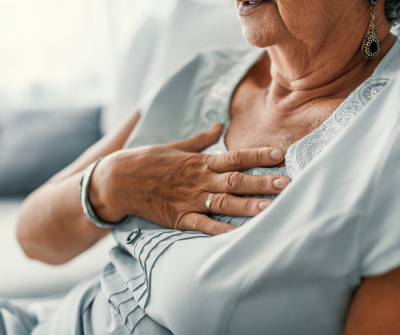 Did you know 1 in 3 deaths are caused by cardiovascular disease every year in the United States? February is American Heart Month and aims to shed light on the dangers of cardiovascular diseases. We sat down with SIMEDHealth's Primary Care Physician Jenny Chen, MD, to discuss the most prevalent of the heart diseases, coronary artery disease.
1. What is Coronary Artery Disease?
"Coronary artery disease (CAD) is the most common type of heart disease and is caused by atherosclerosis plaque building up inside the heart arteries (coronary arteries). The plaque is composed of cholesterol, fatty deposits, and other material on the inner walls of the arteries", explains Dr. Chen. "These inner artery wall deposits result in narrowing or potential obstruction of the space for the flow of blood."
"A heart attack occurs when a coronary artery supplying your heart muscle is blocked, leading to loss of blood flow and oxygen to the muscle cells. If the blockage lasts too long, that part of your heart muscle dies." 
2. What are the factors that could lead to CAD?
Dr. Chen says, "Many factors can contribute to coronary artery disease. These risk factors include but are not limited to high cholesterol, diabetes, high blood pressure, sedentary lifestyle, smoking, obesity, family history/genetics, and aging."
3. What are some ways to prevent CAD?
"There are many ways to prevent or slow the progression of CAD," says Dr. Chen. "If you are a smoker, there is nothing more important in preventing the progression of CAD than stopping smoking. For those with diabetes, its very important to keep glucose under control through diet, exercise, and possibly medication. Eating a healthy diet, including numerous fruits and vegetables per day, minimizing trans-fat, saturated fat, and refined carbohydrates, can all help prevent developing CAD. Also, keeping one's blood pressure well-controlled can help reduce the risk. This means periodically monitoring one's blood pressure and following doctors' instructions on diet, and taking the correct medications if needed. Cardiovascular exercise, if one is healthy enough to do so, can also reduce the risk of CAD. The goal is at least 10 min per session and at least a combined 150 minutes per week of aerobic activity."
4. What are the symptoms of a heart attack in men and women? Why are some of the symptoms different in women?
"Classic symptoms of a heart attack which both men and women can experience include chest pain, an aching sensation in your chest or left arm that may spread to your neck or jaw. Patients can also experience sweating, shortness of breath, palpitations, severe fatigue, nausea, upset stomach, or abdominal pain," says Dr. Chen.
She also adds, "Women are more likely than men to report non-classic symptoms of a heart attack. For example, a woman having a heart attack may complain only of nausea, vomiting, and abdominal discomfort rather than chest pain."
5. What else can I do?
A visit with your primary care physician can help you identify the CAD risk factors that may apply to you. If not done recently, lab testing can be done to evaluate your cholesterol and glucose. Together you can then develop a plan to lower your CAD risks over time. By taking control of the risk factors, you can do a lot to prevent your chances of developing heart disease. 
Click here to schedule an appointment with Dr. Chen or one of our other Primary Care physicians and nurse practitioners.