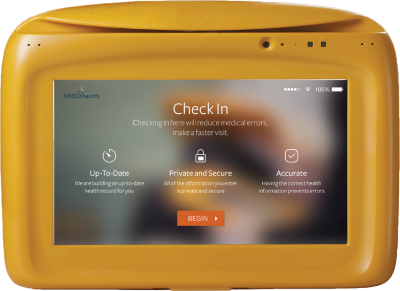 You may have noticed a few changes in our clinics, as SIMED has transitioned to SIMEDHealth. The biggest change so far is our new electronic check-in system.
After testing this system in our Gainesville Neurology, Neurosurgery and newly renovated primary care suite, we are excited to announce the addition of this system in our Urgent Care clinic and Gainesville Primary Care clinics.
This E-check-in system allows for less paperwork, secure transfer of health information and an improved patient experience. It may seem complex but is actually fairly simple.
As appointment times approach, patients will receive a reminder notification and be prompted to fill out paperwork via text message or email. Once patients arrive, they'll need to briefly complete their registration on an electronic pad (shown above). This allows our patients to spend less time in a waiting room and more time with their providers. With less paperwork to sift through, clinic staff and physicians can focus on delivering personalized care to patients.
Our E-check-in system also allows patients to verify insurance coverage before exams and pay all remaining balances on their accounts.
The system is held to the Payment Card Industry Data Security Standard (PCI DSS), is registered as an approved solution with Visa and MasterCard, and uses top encryption and security technology to protect your financial information. Your credit card information will never be saved in the system, and staff members will also only be able to see the last four digits of your credit card number to ensure the data is unusable in the event of a breach. The new electronic check-in system meets the strict security requirements of the healthcare industry to ensure patients are protected. All the information you enter is private, secure, and never stored in a physical location.
At SIMEDHealth, we are always looking for new ways to make our patient experience more efficient and personalized. We're excited to be able to offer this new feature in our Gainesville Primary Care and Urgent Care clinics and look forward to keeping our patients in the best of health.
Keep an eye out for more announcements about our E-check-in system as we introduce it to more clinics in our practice.
Have questions? Contact us here
Need an appointment? Click here