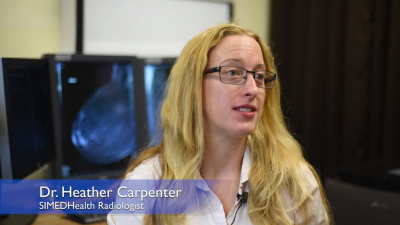 "Breast cancer doesn't follow any rules," said Radiologist
Dr. Heather Carpenter
During October we often see company initiatives to cover everything in pink in support of breast cancer awareness and survivors. We sometimes even see our favorite football players decked out in pink on the NFL field. But we don't often talk about the steps women need to take in order to catch and cure breast cancer early on.
The CDC states that "cancer is the second leading cause of death in the United States, exceeded only by heart disease. One of every four deaths in the United States is due to cancer." In this video, Dr. Carpenter discusses the importance of annual mammogram screenings, detecting breast cancer and even debunks some common mammogram myths. Watch below:
If no video is shown, click here.
The SIMEDHealth
Imaging and Radiology department
has certified technologists and radiologist to help ensure high quality, efficient imaging.
Click here to request an appointment.