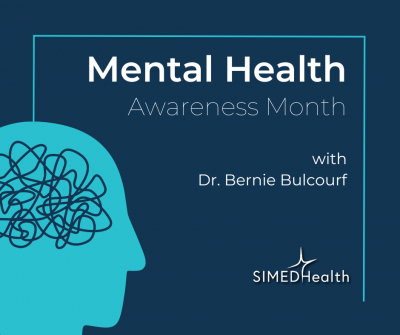 May is recognized as Mental Health Month and it's a time to raise awareness about mental health, break down stigma, and promote mental wellness!
In 1949 Mental Health America (formerly National Association of Mental Health) started National Awareness Month in May to raise awareness, educate the public, and reduce the stigma of having mental illness. It is estimated that 1 in 5 Americans will suffer a mental illness in a given year.
1. Why is mental health important?
Mental and physical health are equally important for individuals to maximize their life goals, enhance personal relations, cope with stress, and effectively contribute to their community. Research has repeatedly shown that mental health illness can affect someone's medical condition and conversely someone's medical condition can affect mental health illness.
2. What's the difference between experiencing anxiety or depression, and suffering from a mental illness?
Mental health is more than just the presence or absence of a pathological condition. Anxiety, depression, other mood issues, and psychosocial disabilities are on a continuum of intensities. When those mental health issues reach a level that emotionally distresses the individual and/or begins to negatively impact their personal and social functioning it is considered to be a pathological condition of mental illness.
3. What are symptoms which can be signs of mental illness?
If you or your loved ones notice changes in your ability to effectively deal with everyday stressors, notice changes in your ability to care for yourself, notice changes in eating and sleeping patterns, have poor motivation levels, find that you are not able to regulate your emotions, if you are isolating yourself from others, have thoughts of hurting yourself or others it is time to talk with your healthcare provider for a mental health assessment.  
4. How is a mental illness diagnosed?
A mental illness is diagnosed after appropriate medical and/or psychological tests are performed along with an interview about an individual's symptoms and family history.
5. What are some support and treatment options for those who have a mental illness?
It is best to talk with your healthcare provider as a first step in diagnosing and treating mental illness. Treatments may include counseling, medications, and/or other social interventions. There are national organizations that may also be referenced such as the American Psychiatric Association (AMA, psychiatry.org), the American Psychological Association (APA, APA.org), the National Alliance on Mental Illness (NAMI, nami.org), 988 Suicide & Crisis Lifeline (988lifeline.org), and Mental Health America (mhanational.org).
---
Living with mental health challenges can be difficult, but you don't have to face it alone. Our psychologists provide a safe and supportive environment to help you overcome your struggles. To make an appointment with a SIMEDHealth Psychologist, click here.